The Home Stretch - Packing the Dorm Room
Miller Susens
Hello all!
I officially have five days until I leave my Dallas home and drive up to Bloomington! I'm excited to meet all of you and bask in that lovely Hoosier Hysteria I've longed for all summer!
Personally, one of the most stressful things about preparing for college is not necessarily moving from home to the dorm, or putting all of your stuff in one seemingly organized but not really organized pile, but packing. I can tell you that my mother has already found about everything I would need if I was living by myself, and the sheer amount of Container Store bags is amounting daily.
Therefore, I have a few things for you to keep in mind when you're packing. As my mother and I are the queens of organizing and packing every little thing into a tight space (aka the truck), my few tips and tricks should help those that are in the final stages of packing their dorm stuff and getting ready for IU!
1. Thin, Velvet Hangers (Also called Ultra-Slim Hangers)
I cannot emphasize these enough. Not only are they ultra-slim - perfect for putting more clothes in your closet than you originally thought - but these hangers have a nice velvet material on them so that your clothes, regardless of fabric, will stay on and not fall off. I've used plastic hangers since I was a toddler, and when I told my mom about the little tension rod I have for clothes in my wardrobe at school, she insisted that we buy these.
2. Double Up on Your Clothes
Now, if you have an idea of the size of your clothing rack, you might be thinking, "Well, I'll have to choose the clothes I want carefully for the sake of my small tension rod." But, you might not know that you can probably take twice as many clothes with the same amount of hangers. This pic is actually from the clothing rack I'm using to hang all of the clothes that I want to take to IU with me (which I'm pretty sure is all of them). I've put all of my cardigans and jackets on hangers that already have shirts on them so that I can bring twice as many clothes as I originally thought. This might be more of a girl thing, but since carrying a bunch of clothes to and from Dallas could be a hassle, I've just decided to bring mostly everything with the same amount of hangers for the space allotted in my dorm!
3. Pack Your Clothes in a White Trash Bag (The Ones You're Hanging)
It would be a hassle to have all of those clothes on those nice velvet hangers, doubled up for more clothes, and then have to take them all down and fold them into suitcases and other packing containers, but never fear! You can put a white trash bag over the bottom and tie the top around the metal part of the hangers so that you can hang them up the same way at home as you do in the dorm!
4. Put Your Socks/Undies/Bras in Your Boots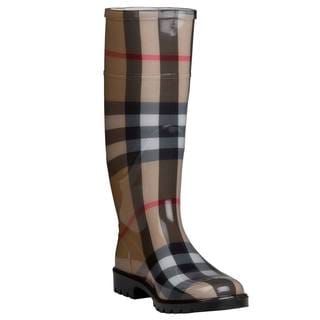 (And these are really cute)
When I moved houses, I put all of my socks, underwear, bras, and tank tops all in separate plastic bags to act as a sort of bubble wrap for all of my paintings and other things that would break without a sort of cushioning. But, as far as dorm packing, I'm not planning on bringing any moving boxes, and I can use things like towels to protect anything that could break. So, for your socks and other small garments, stuff them in your boots (whether they be rain boots, snow boots, or just boots in general). That way, you can just pull them out and put them wherever you want them in your dorm room when you get there.
5. Pack Some Things in Suitcases, But Don't Bring Eight Suitcases
Two Words: Please. Don't.
Since I'm moving in a couple days before actual Move-In Day, and I'm leaving two days before my move-in day to drive from Dallas, I'll be staying in a hotel for a day or two before actually moving into my dorm room. Therefore, it's only logical for me to bring a suitcase to live out of before I get to put my entire life into a tiny room. For the majority of y'all, however, bringing a suitcase or two full of shoes or something for your dorm room is a perfect idea! But don't bring more than one or two because you won't have any room for a bunch of suitcases in your room - it will be cramped enough already. So just stick to one or two, and leave the rest of the packing to other things that you can either use the rest of the year, send back with your family, or throw away.
6. Pack Any Folded Clothes in a Laundry Hamper
I don't really know anyone else from where I am that loves laundry with the passion that I do. Folding laundry is probably one of my favorite past times, so folding this entire week has been extremely fun.
Now that we've bypassed yet another nerd quirk of mine, back to business. For all of your shorts, pants that don't need to be hung up, athletic wear, and other foldable articles of clothing, folding them and stacking them in your hamper will prove especially beneficial. All of your clothes will already be folded and ready to put away. This method is the alternative to a large trash bag full of "folded" clothes that probably got unfolded and wrinkled when your dad threw them in the back of the truck.
This has happened multiple times in my life.
7. (For Those With a Keurig) Put K-Cups in Your Water Bottles
I was happy to purchase an Indiana University Nalgene water bottle when I came up for my Jacobs Audition in March. I've always been really happy with Nalgene's because, as a mega water-drinker, they hold a lot, and I can always clip my keys to the little loop at the top. Nalgene's hold a lot of liquid, so if you have one or two, you can stuff those pesky K-Cups in your water bottles, regardless of if you have a nalgene or not, and that way you don't have to haul yet another box in to complement the rest of the useless boxes that will make their way into your room.
I hope I could help you guys out with these packing tips. I'm in my last home stretch before officially leaving Friday for IU! Next Stop: Orientation and Welcome Week!
Go Hoosiers!
Miller
For more moving tips: